Have questions? We are here to help.
Sales
Not sure where to start? Want to see our product in action? Or just want to schedule a meeting to discuss options? Contact us. Our sales team is ready to assist you.
+1-202-932-8498
Support
Need help with our platform? Have ideas you want to implement for your practice? Our support team is here for you. There are a variety of ways to contact our support team.
+1-202-932-8498
Start a chat session by clicking on the Chat Box (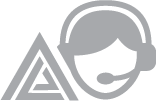 ) at the bottom right-hand side of the screen. Our Live Chat and Phone Support is available between 8 AM to 5 PM EST, Monday – Friday. Please fill out our Sales ticket or Support ticket which is available 24/7 and we will respond within 24 hours.
More support options inside the platform
(You must be logged in to use these features)
Whether you need to report an issue you've found on the system, or simply want to share an idea you would like to implement on the platform, you can do so real-time by using
our Feedback & Ideas feature.
Have a burning question you would like to ask? Having simple technical issues and trying to troubleshoot? Our Support FAQ may have the answers you need. Click on the FAQ icon on the menu to get to this section.